Pemenang Karyawan Terbaik Tahun 2019
20 April 2015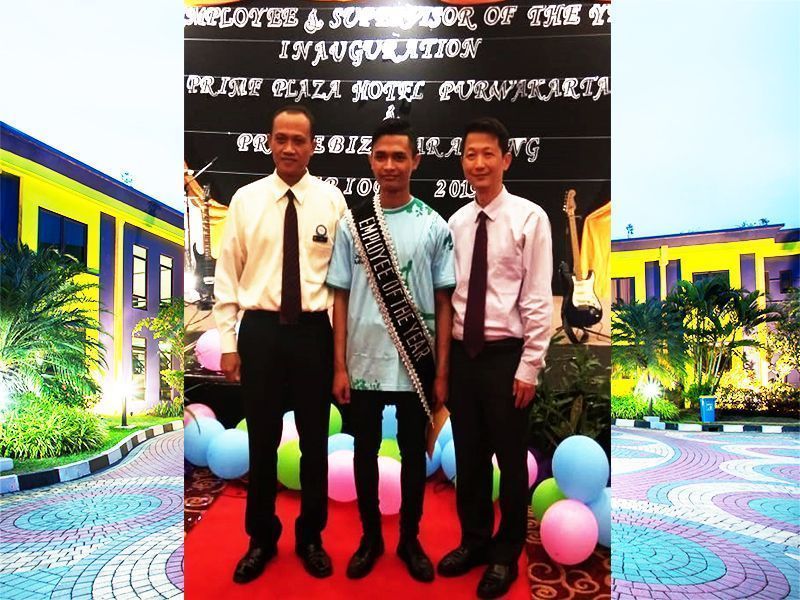 ADI LESMANA PEMENANG KARYAWAN TERBAIK 2019
PRIMEBIZ HOTEL KARAWANG
PrimeBiz Hotel Karawang telah menyelenggarakan peng-anugerahan employee of the year. Pemenang tahun ini adalah Adi Lesmana seorang Guest Service Representative dari departemen Front Office. Kesannya telah memenangkan predikat employee of the year adalah tidak menyangka dan bahagia. Senang bertemu orang-orang baru sebagai nominees dan yang akan saling support satu dengan yang lainnya.
Adi akan bersaing dengan pemenang – pemenang employee of the year dari property PrimeBiz hotel lainnya, seperti PrimeBiz Kuta, PrimeBiz Surabaya, PrimeBiz Tegal dan PrimeBiz Cikarang yang rencananya akan dilaksanakan di Prime Plaza Hotel Jogjakarta. Mempersiapkan semua kebutuhan yang diperlukan merupakan usaha yang dilakukan untuk dapat menjadi yang terpilih, juga meningkatkan kemampuan sesuai mater yang akan di ujikan" kata pemenang Employee of the Year PrimeBiz Karawang ini.
PrimeBiz Hotel Karawang merupakan hotel bintang 3 (tiga) yang terletak di Kota Bukit Indah blok C, Kalihurip, Kabupaten Karawang - exit tol Dawuan - KM 68, merupakan salah satu grup dari Prime Plaza Hotels & Resorts, yang terdiri 14 properti, yaitu; Prime Plaza Hotel Sanur – Bali, Prime Plaza Hotel Jogjakarta, Prime Plaza Hotel Purwakarta, Prime Plaza Hotel Kualanamu – Medan, Prime Plaza Suites Sanur – Bali, Amadea Resort & Villas, Bali Dynasty Resort, Menjangan Dynasty Resort, Gili Eco Villas, PrimeBiz Kuta, PrimeBiz Surabaya, PrimeBiz Tegal, PrimeBiz Karawang dan PrimeBiz Cikarang. End...
Narasumber : Adi Lesmana
Informasi lebih lanjut hubungi :
Fera Situmorang – General Secretary
PrimeBiz Hotel Karawang
Blok C, Kota Bukit Indah
Karawang – Jawa Barat
t. 0264 – 837 1010 f. 0264 – 837 1011